Student Challenge Awards Program
Diversity, Defense, and Natural Enemies of Desert Caterpillars
Earthwatch Institute July 2006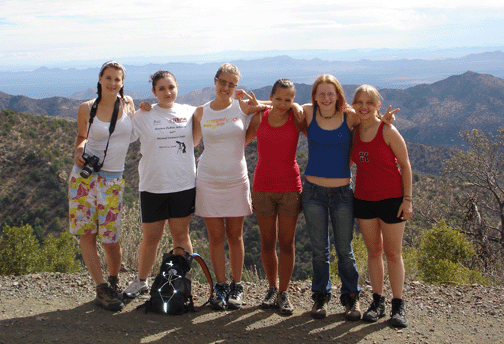 In late 2005, more than 380 students from across the United States applied for scholarships to accompany Earthwatch Institute researchers on their unique projects around the nation. Eighty students were selected to be recipients of the award scholarships and of these, six set off for the Southwest Research Station (SWRS) in Portal, Arizona to research the diversity, enemies, and natural defenses of desert caterpillars. This web page was created by that team of researchers.
Overview lecture from PI, Lee Dyer
Project Details
Dates: July 1st- 15th
Location: South West Research Station, Portal, AZ
Environment: Sky Islands, desert mountains, lower elevation desert valleys
Elevations: 2,000- 8,500 feet
Objectives:
<![if !supportLists]>· <![endif]>To document diversity of lepidoptera species in diverse environment of southern Arizona.
<![if !supportLists]>· <![endif]>To study tri trophic interactions between host plants, lepidoptera, and their various parasitoids.
<![if !supportLists]>· <![endif]>To study immune system reactions of lepidoptera to parasitoids in relation to diet and host plant toxicity.
Researchers
Leaders:
Dr. Lee Dyer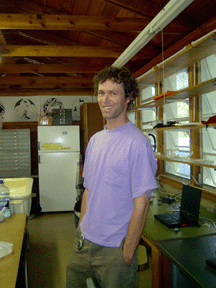 Home State: California
Hobbies: Rock Climbing, poetry, mountaineering, back country skiing, soccer
Favorite caterpillar: Limacodidae
I grew up in Spain, went to the Airforce Academy because my dream was to be a bush pilot in Alaska, hated the military so left and went to UCSB where I majored in English and Biochemistry. I was a radical environmentalist, writer, climber, and street poet before I finally decided to go to graduate school and study weird bugs.
Tara Massad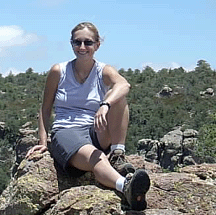 Home State: Oregon
Hobbies: Running, travel, visiting friends
Favorite caterpillar: Synchlora sp.
I am a graduate of Tulane University, and currently study applications of chemical ecology to reforestation in Costa Rica and Brazil.
Angela Smilanich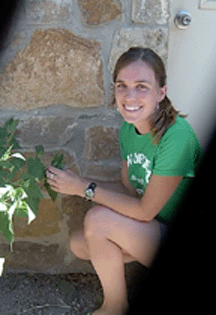 Home State: Colorado
Hobbies: Rock climbing, reading, listening to live music, eating fine chocolate
Favorite caterpillar: Tarchon felderi
I work in Lee Dyer's lab, collecting caterpillars and doing lots of lab work to understand how plant chemistry affects caterpillars' immune response.
Humberto Garcia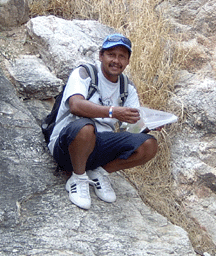 Home Country: Costa Rica
Hobbies: Soccer, listening to reggaeton, playing the piano, spending time with family
Favorite caterpillar: all Sphingidae
Beto: Super Caterpillar Collector and Super Trail Finder!
Students:
Casey King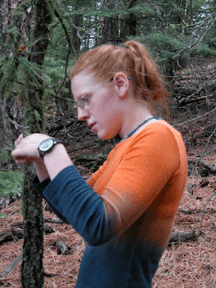 Home state: Missouri
Hobbies: Swimming, painting, drawing, listening to music, hanging with friends, and exploring the "Great Outdoors"
Favorite Caterpillar: Wooly Bears a.k.a. "Creepys"
Hi ,I'm seventeen years old, and come from a very small town. I have grown up in the country my entire life, and had limited opportunity to travel. This expedition has meant a lot to me because it has offered me a chance to travel and indulge in my interests in the more physical aspects of science.
Elizabeth

Home state: Massachusetts
Hobbies: Going to new places, meeting new people
Favorite Caterpillar: Geometrids
JoLynn Heller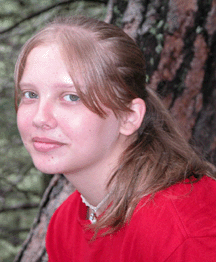 Home state: Pennsylvania
Hobbies: drawing, tennis, volunteering, drama, hiking, photography, snowboarding
Favorite Caterpillar: Orgyia
I'm 17 years old and I have just completed my junior year of high school. I love being outside, whether it's raining, sunny or snowing, I usually find some things to do.
Letitia Bellows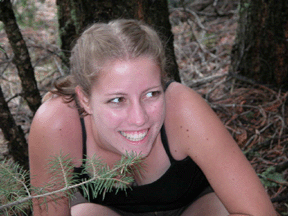 Home state: Maine
Hobbies: reading, tennis, cheering, drama, hanging out, drawing
Favorite Caterpillar: Orgyia a.k.a schoonkuumms
This experience has meant so much to me because it gives me hands on experience in a field of study I love.
Lynsey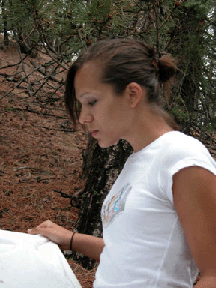 Home state: Pennsylvania
Hobbies: Reading, running, piano
Favorite Caterpillar: Wooly Bears
Moria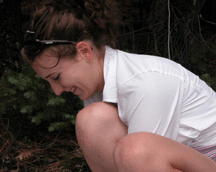 Home state: Washington
Hobbies: Chasing butterflies, traveling, photography
Favorite Caterpillar: All lycaenidae
It has been amazing to meat researchers who are making their passions their life's work. Thank you to everyone who made this opportunity possible, and good luck to future volunteers!
Journal excerpts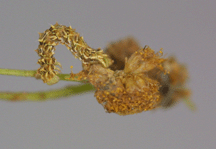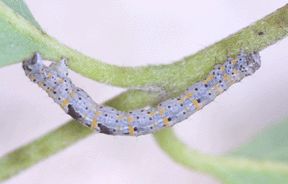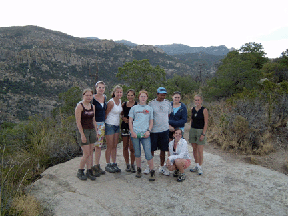 7/2/06 Today we learned how to do plots 1) pick a spot at least ten meters of the path, 2) pick a center tree, 3) create a radius of five meters around the tree, 4) use a beat stick to hit the tree over a white beat sheet to catch anything that falls, 5) Examine the sheet for caterpillars, if there are any caterpiars put it in a bag with food and labbled with the plot number and th number in order of which it was found, 6) Do a leaf count, 7)Record the data, which trees were there and how many leaves are on each tree, 8) collect leaves from the trees in the plot to do a leaf area back in the lab. It was really fun to find the caterpillars. They are all different, unique, and fun to examine. ~Letitia
7/3/06 Today we woke up in the hotel and went to listen to the first of Lee's talks. We were able to see what the whole project was about and the lab that's in Costa Rica. Then we packed up for our drive to the south west research station. On our way there we did two plots and found a few caterpillars. We eventually arrived at the station and got settled in. It's so beautiful here, the food is fantastic and the people here are so nice. ~JoLynn
7/4/06 All of us met Tara and Angela over at the lab after breakfast to learn how to enter the data onto the computer and put up the tent for storing the caterpillars we collect. In the afternoon we got to go to this little tow, Rodeo, in New Mexico. They put on such a cute parade. Unfortunetly it was to dry here to have any fireworks, but it was still alot of fun. ~JoLynn
7/6/06 Today we went collecting in high altitude. It was nice and cool, but the plot I worked in was not turning up anything. then we found Schnoockemms. this caterpillar's actual name is Orgyia. He has two horns on his front side and one on his end. He also has little tufts of white and orange hair. He is so cool. ~Letitia
These last few days have been pretty interesting. Yesterday I found the caterpillar I had ben hpoing to find since joining the team. It was a woolly bear. I found 34 of them. My favorite book as a kid growing p was about a woolly bear named creepy, so I was pretty excited. Yesterday we played a nice 3-on-3 soccer game. I ended up making 3 of 6 points. Today we drove up into a beauiful part of teh mountains. It was nice and cool, with fern and pines everywhere. We get to go back tomorrow. We had a talk fom Lee last night. It was actually very neat; at least I though it was interesting. He explained several ays to identify caterpillar families. I'm getting recipes for my mom from the cook, so she can make me some killer food when I get home. Well, adios, peace. ~Casey
Mike Singer, a professor of ecology at Wesleyan University, has spent several days with us here at SWRS. He went to graduate school in Arizona, and has an incredible knowledge of Arizona's insects and plants. He gave us a talk today about one of his main projects, which involves investigation of possible self-medication in caterpillars. It was an intriguing idea: Parasitized caterpillars may choose eat more toxic plants in order to kill or impede the parasitoids exploiting them. To many awesome details to go into! Many thanks to him for his passion and time. ~ Moria
7/8/06 The Chiricahua Mountain Hike was amazing! The views were memorable and I especially liked Inspiration Point and the rock formations along the trail. It was fun hiking for 8 mi with everybody, but it was challenging going uphill. I was glad to be able to have taken lots of pictures and it was an excellent experience! ~ Elizabeth
7/9/06 I think Bisbee was the largest amount of civilization I've seen this entire trip, even though it consisted of less than 1/10 of my town's size. I really enjoyed the small antique and vintage shops. It was a great break from field work and a great opportunity to purchase gifts for family members. All in all, I enjoyed the day and will be sure to revisit Bisbee if I ever encounter Arizona again. ~Lynsey
7/10/06 I enjoyed injecting the caterpillars mostly because I was anxious to discover the results of the experiment. I am looking forward to the dissections to see what became of the small glass beads that were injected into the caterpillars. The caterpillars may encapsulate the beads as a defense mechanism. We injected the caterpillars between the 3rd and 4th prolegs with small, died glass beads and will look for any changes in them when we autopsy the caterpillars. ~Lynsey
7/12/06 Today has been great. Right now I am lying in a tent in the mountains, at abot 8500 ft. Our camping has been fun so far, we told scary stories around the campfire, blacklighted, and went hunting for caterpillars along one of the trails we had taken previously that day. Me, JoLynn, and Letitia are sharing a tent. Today was actually prety easy. I worked in the lab cleaning data files with Letitia. We ot from the C's all the way down to the R's, so I think we did really good. Only a couple more days before we have to go home. I'm going to miss this place. Peace. ~Casey
7/13/06 Dissecting the caterpillars was interesting. I felt bad that we were cutting them open, but the results and the whole experience made it worth it. We dissected the caterpillars with small incision scissors, and then used a microscope to look throughout the caterpillar tissue to locate the glass beads. When we found them, and usually we did, we would put the beads into separate petri dishes to be analyzed later by Angela in her own dissertation. In all, the experience was memorable and I loved it. ~Elizabeth
7/13/06 As the project wrapped up, we needed to make sure that all of our caterpillars had plenty of food to last them until th next Earthwatch team came in August. "Zoo" is the term we use feeding and checking up on all the caterpillars, and this was a major zoo. Each caterpillar in the 156 bags needed to be found (no easy task), checked for obvious parasitoids or pupation, and then given more of their species-specific host plants. After many hours new observations had been added to the database, and all the caterpillars were ready for their weeks without us. ~Moria
Pictures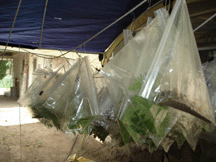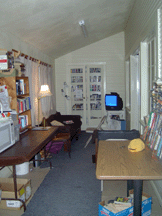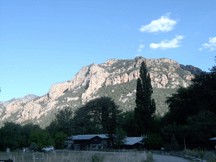 Landscapes and Southwest Research Station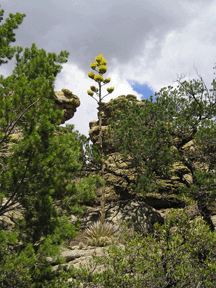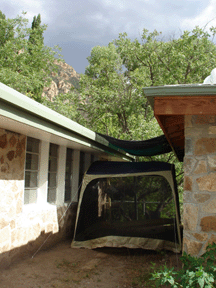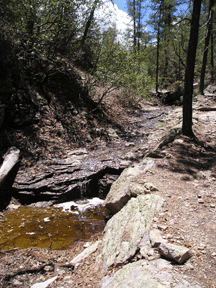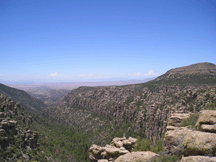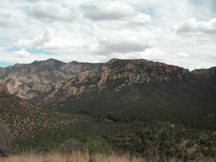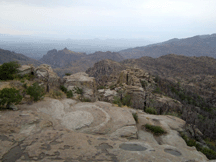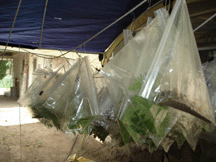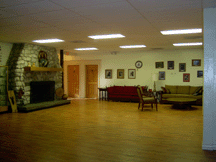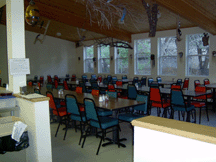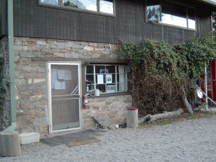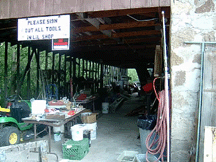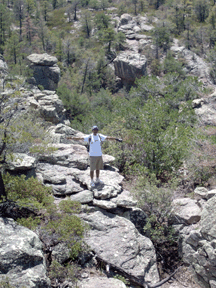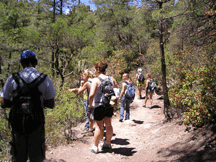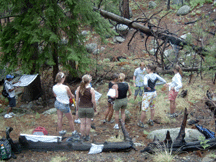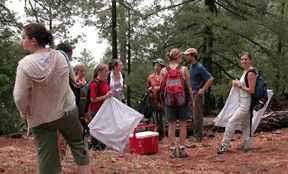 Research In the Field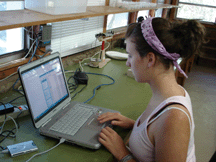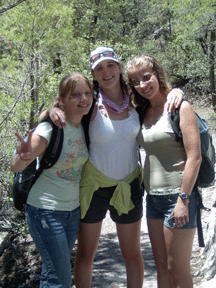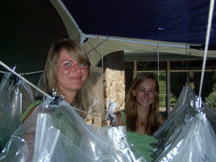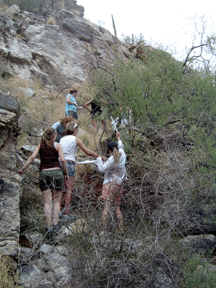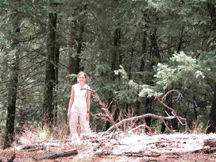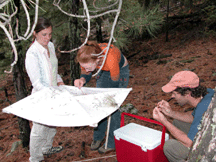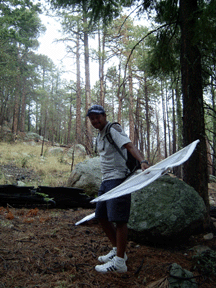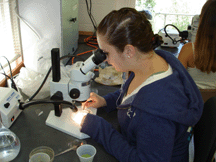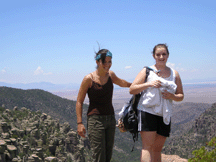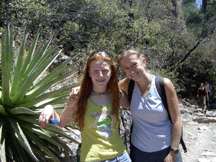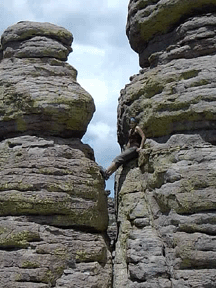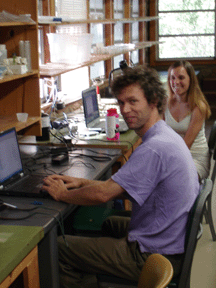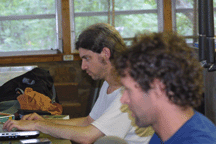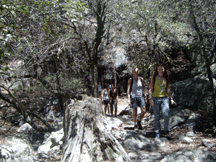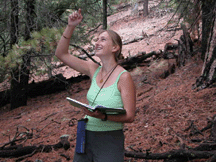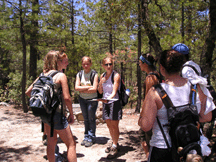 Caterpillars
Family: Arctiidae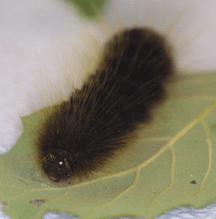 Family: Geometridae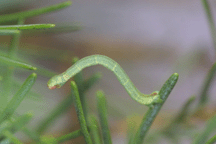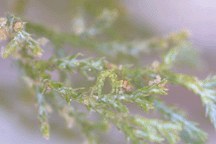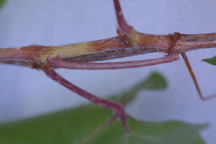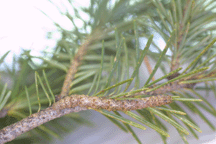 Family: Hesperiidae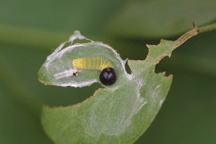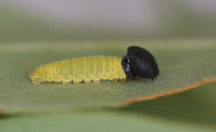 Family: Lycaenidae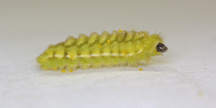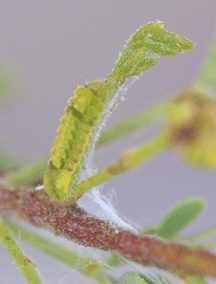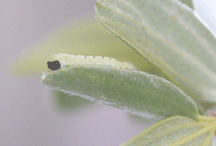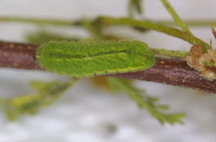 Family: Lymantriidae

Family: Noctuidae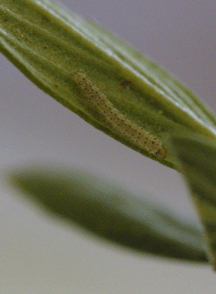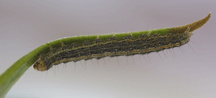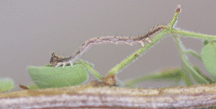 Family: Sphingidae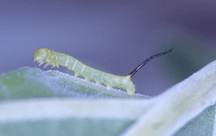 Parasitiods
-Tachinidae -Brachonidae -Eulophidae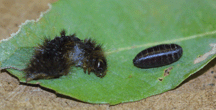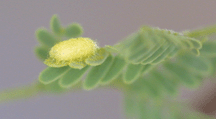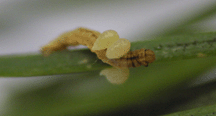 Candids